Singer Adjustable Mannequin / Dress Form Sizes M - L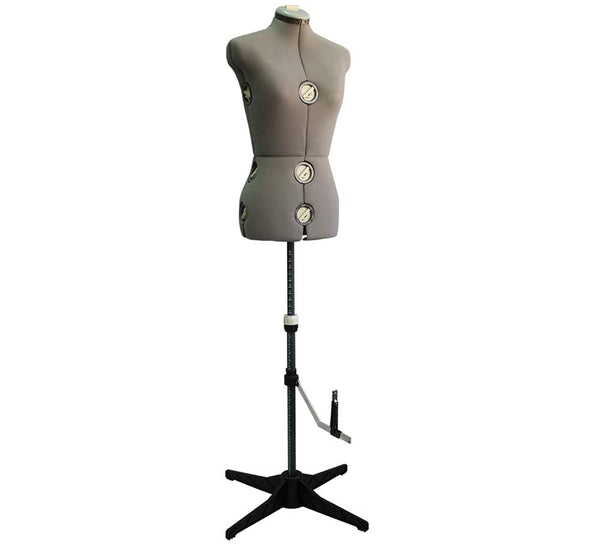 Elsewhere $299 - Our price $239!! Save $60!!
This is an Adjustable Dress form / Mannequin. Simply dial in your measurements and get started. It allows pattern adjustments before cutting. You can set necklines, sleeves and collars easily and is perfect for linings, hems and total construction. 

Size 16 - 22 - Please refer to Measurements below

Measurements
Waist - 77cm-94cm (30"-37")
Bust - 101cm-117cm (40"-46")
Hips - 102cm-119cm (40"-47")

Features
- This sturdy dressform has a dial system to adjust the neck, bust, waist,and hip sizes.
- Ideal for the classes and studios.
- Precisely dial your figure with 12 body dials
- Neck dial adjustment
- Eight foam backed (for pinning ) nylon fabric covered body panels
- Locking waist / torso adjustment
- Locking body height adjustment
- Adjustable height hem measure
- Hem gauge
- Stable base

Ensure you get a great fit when sewing garments for yourself or others with this adjustable Mannequin / Dress Form.

The dials allow you to adjust the size and proportion of each area so that the contours match the body you are sewing for. Perfect if you are sewing for friends, relatives or clients who can't be there during the whole sewing process to try on the garment, simply set their measurements on the Dress Form at their first visit or get their measurements over the phone.

The total height can be extended up to 190cm on the stand. The height of the body can be adjusted by 4.5cm at the waist making the total mannequin adjustable from 71-76cm tall from top to bottom.

Also makes fitting garments to yourself much easier!

The height is also adjustable so that you can ensure that you hem your garment to the correct length. Marking an even hem is made easy with the handy hem gauge.
Accepted Payment options
- Visa
- Mastercard
- Visa Debit
- Oxipay
- Bank Deposit


Layby - pay 20% deposit in the first week and the balance over 8 weeks.

Finance - available on orders over $500 through Gilrose Finance


Free Delivery - For Orders over $99
We offer Free Shipping within New Zealand on orders over $99. This excludes Industrial machines outside of main centers listed below. Also includes Handi Quilter Machines
$3.90 - Flat Rate New Zealand Shipping Rates - For Orders under $99
To ensure you always pay a fair price for delivery you will be presented with exact shipping rates in the checkout, based upon the items you order and your delivery address.


Delivery to PO Boxes
We do deliver to PO Boxes within New Zealand.


Delivery Times
Standard Address 1-3 Working Days
Rural Address 3-5 Working Days


We will endeavor to dispatch all orders within 1 working day of receipt of order to the address advised by you in your order. You will receive an email with tracking details of the package once the item has been dispatched.