Accuquilt GO! Half Square – 4.5″ Finished Triangle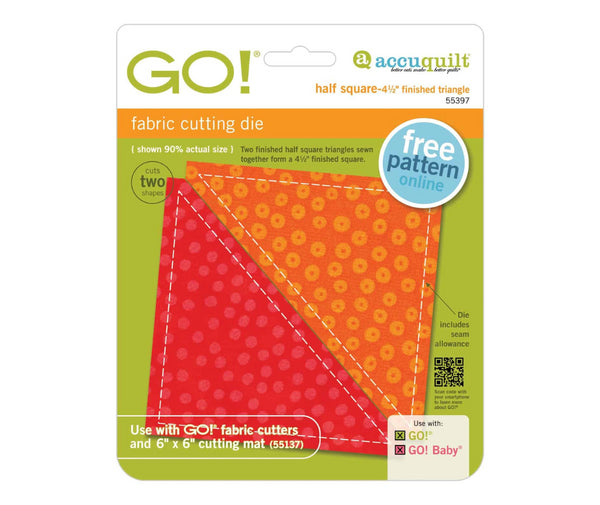 Accuquilt GO! Half Square – 4.5″ Finished Triangle - AQ55397
Half square triangles have never been sew easy to cut then with the GO! Half Square Triangle – 4 1/2″ Finished Square!
The triangles are already dog-eared for easy and perfect sewing. Arrange in a variety of colourful combinations for great quilt and unique designs.
For use with the Go! Cutting Mat 6″ x 6″ AQ55137
Compatible with these models:
- GO! Baby
- GO!
- GO! Big
- Studio
Features and Benefits:
- Cut so much more in less time — Cut up to 6 layers of 100% cotton fabric at once
- Easiest to use — Simply place die on cutter, then fabric and cutting mat on top
- Get accurate cuts every time — No slipping rulers or mistakes
- Create quilts you never thought you would — AccuQuilt makes cutting curvy classic quilt patterns a snap
- Save fabric with Two Tone Foam — Get more out of your fabric by placing it only over the shape you want to cut
- Safe to use — No blades come anywhere near your fingers
- No more math — Geometric shapes are designed with an accurate 1/4″ seam allowance in the design
- Quilt more, clip less — No more clipping all those dog-eared corners
- Quick and easy appliqué — Apply fusible web to fabric prior to cutting
- Storage: Organise GO! dies with AccuQuilt GO! Die Storage Rack (AQ55115).
Die Tips:
- With some fabrics, after cutting, a thread or two will remain where die blades meet. Snip threads with scissors.
- Use cutting mats that matches size of each die.
- For best results, cut with die blades running under roller at an angle. Do not cut with blades parallel to roller.
- Blades on some dies are positioned at an angle. Align fabric to edge of shape, not edge of die board.
- For fast appliqué, apply fusible web to fabrics, then cut shapes with dies.
* To conserve fabric, cover the only shape you want to cut – not the entire board. For asymmetrical shapes, place fabric pattern side up if you want the shape to look exactly like the shape on the die. Place fabric side down if you want the shape to be a mirror image of the shape on the die.
Accepted Payment options
- Visa
- Mastercard
- Visa Debit
- Oxipay
- Bank Deposit


Layby - pay 20% deposit in the first week and the balance over 8 weeks.

Finance - available on orders over $500 through Gilrose Finance


Free Delivery - For Orders over $99
We offer Free Shipping within New Zealand on orders over $99. This excludes Industrial machines outside of main centers listed below. Also includes Handi Quilter Machines
$3.90 - Flat Rate New Zealand Shipping Rates - For Orders under $99
To ensure you always pay a fair price for delivery you will be presented with exact shipping rates in the checkout, based upon the items you order and your delivery address.


Delivery to PO Boxes
We do deliver to PO Boxes within New Zealand.


Delivery Times
Standard Address 1-3 Working Days
Rural Address 3-5 Working Days


We will endeavor to dispatch all orders within 1 working day of receipt of order to the address advised by you in your order. You will receive an email with tracking details of the package once the item has been dispatched.