Accuquilt Go! Fabric Cutter Starter Set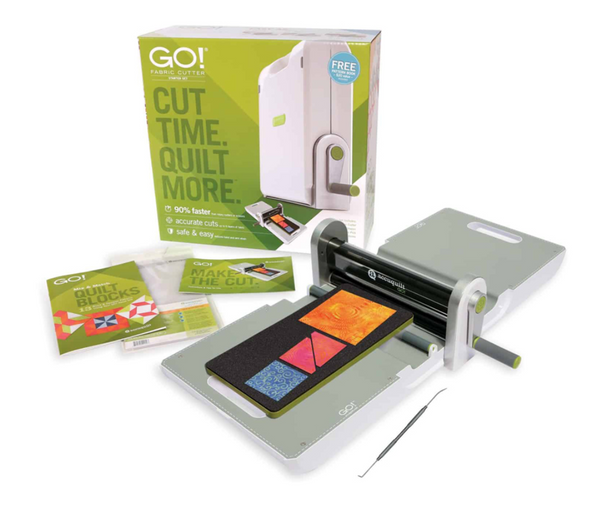 Accuquilt Go! Fabric Cutter Starter Set - AQ55100S
The new GO! Fabric Cutter Starter Set saves you time cutting so you have more time to quilt! Easily cut up to 6 layers of fabric accurately at one time and it is safe and easy to use.
The GO! Fabric Cutter Starter Includes:
- GO! Fabric Cutter
- Exclusive GO! Value Die (AQ55018) featuring:
- Square-4 1/2″ (4″ finished)
- Square-2 1/2″ (2″ finished)
- Half Square-2″ finished triangle (cuts two)
- GO! Cutting Mat-6″ x 12″
- 20- page Pattern Book: GO! Mix & Match Quilt Blocks
- Die Pick
- Product Registration Card
- Quick Start Guide
- User's Guide [Click to View or Download
Cutter Specifications:
- 17″W x 5″D x 15 1/2″H (43 cm x 13 cm x 38 cm)
- Weighs approx. 7 kgs
Features:
- 90% faster than rotary cutters or scissors.
- Accurate cuts every time.
- Safe, easy-to-use design helps to reduce hand and arm strain.
- Cuts up to 6 layers of 100% cotton fabric at a time.
- Unlimited design options with wide selection of GO! dies.
- Portable and easy to store (approx. 7 kgs.).
- Double roller design provides clean cuts and the rubber feet grip and hold cutter in place while cutting.
- Easy-lift carrying handle make is easy to take to classes, guild meetings, retreats and quilting bees.
- Comfortable roller handle grip is easy and safe; eliminating arthritis, wrist, backaches, shoulder and elbow pain caused by using a rotary cutter.
- The design is innovative and easy to clean with a high gloss exterior surface and a neutral, light-colored work surface.
* To conserve fabric, cover the only shape you want to cut — not the entire board. For asymmetrical shapes, place fabric pattern side up if you want the shape to look exactly like the shape on the die. Place fabric side down if you want the shape to be a mirror image of the shape on the die.
Care and Maintenance:
For best results, always keep your GO! fabric cutter clean and lint free. To clean the fabric cutter inside and out, use a soft dry cloth. Avoid abrasives, solvents and spray cleaners. If necessary, wipe with a damp cloth, then polish with a dry cloth. Use canned air to clear lint from roller area. The GO! fabric cutter does not have replacement parts.
Product details:
Weight 11 kg
Dimensions 48 × 22 × 46 cm
Accepted Payment options
- Visa
- Mastercard
- Visa Debit
- Oxipay
- Bank Deposit


Layby - pay 20% deposit in the first week and the balance over 8 weeks.

Finance - available on orders over $500 through Gilrose Finance


Free Delivery - For Orders over $99
We offer Free Shipping within New Zealand on orders over $99. This excludes Industrial machines outside of main centers listed below. Also includes Handi Quilter Machines
$3.90 - Flat Rate New Zealand Shipping Rates - For Orders under $99
To ensure you always pay a fair price for delivery you will be presented with exact shipping rates in the checkout, based upon the items you order and your delivery address.


Delivery to PO Boxes
We do deliver to PO Boxes within New Zealand.


Delivery Times
Standard Address 1-3 Working Days
Rural Address 3-5 Working Days


We will endeavor to dispatch all orders within 1 working day of receipt of order to the address advised by you in your order. You will receive an email with tracking details of the package once the item has been dispatched.